The Sunset Theatre is the crucible for theatre artists to create new works. The Exploration Series, launched in 2006 at the Sunset Theatre, supports the creation and development of new plays in the varying phases of the creative cycle from inception to full production. The format for each of the Exploration Series projects is as unique as each artist, at the varying stages of development. Sometimes it's a retreat for writing, and sometimes it's development, geared towards production. The Sunset Theatre's support of new Canadian plays has been at the core of the company's mandate from its inception – whether engaging a dramaturge, workshopping a script, scrapbooking initial ideas and concepts, or wanting to hear your play read in front of an audience for the first time. We look forward to you joining us in establishing the Sunset Theatre as a centre for excellence.
For more detailed info on the Exploration Series Click Here
"As an artist whose career spans over a 40 year period with more than half of that time as an independent performer, Sunset Theatre offered me a gift. Time, space, professional stage management, a dramaturg of my choice and an exceptional administration team all of whom are artists themselves. I delved into my work protected, nurtured and embraced with tremendous support for a small idea that exploded! Daily check ins, focused planning and technical accommodations allowed we to see the potential in my creative journey as I was guided by experts. My lodgings were warm, well stocked and thoughtfully detailed with homey touches and welcoming messages. The serene setting allowed hours of uninterrupted writing/editing time that primed rehearsals in the morning and honed discoveries at night. I am honoured to have been chosen for this Exploration series and look forward to premiering my project at Sunset Theatre in the near future with a tour to follow. Fuelled by commitment, energy and exemplary visioning of what Canadian Theatre can be, the Sunset team provided intelligent thought provoking feedback at the final reading that was invaluable and cherished. I was humbled by the dedication the program has to the artist's authentic voice and believe I have come much further in my practice because of this jewel of a theatre!"- Lana Skauge, Queen Bee, 2019
"The opportunity to be free from the stress and demands of the regular day to day, unconditional support from Karen, Dirk, Julia and Dave, in a theatre rich with history and great care, in a location brimming with natural beauty, was like nothing I"ve ever experienced before in my 30+ years of creating .
My time at The Sunset Theatre as part of The Exploration Series was nothing short of an transcendent transformation, for both me as an individual and and as an artist." – Paul Tedescini, The Grace of Strange Weather, 2019
EXPLORATION SERIES 2019-2020
Her Blood Runs Through My Braids • Kym Gouchie
With Dramaturge Renae Morrisaeau • Workshop 1 to 7 April 2019 • Stage Three Reading TBA
LESLIE: My Great Granny was a full-blooded Carrier Indian woman, she was also Catholic and blind. I never seen anyone pray as much as she did, not in my whole life! She would pray for all of us all the time. She told us that we needed to go to church and if we didn't she would say… "You'll see, you'll burn!"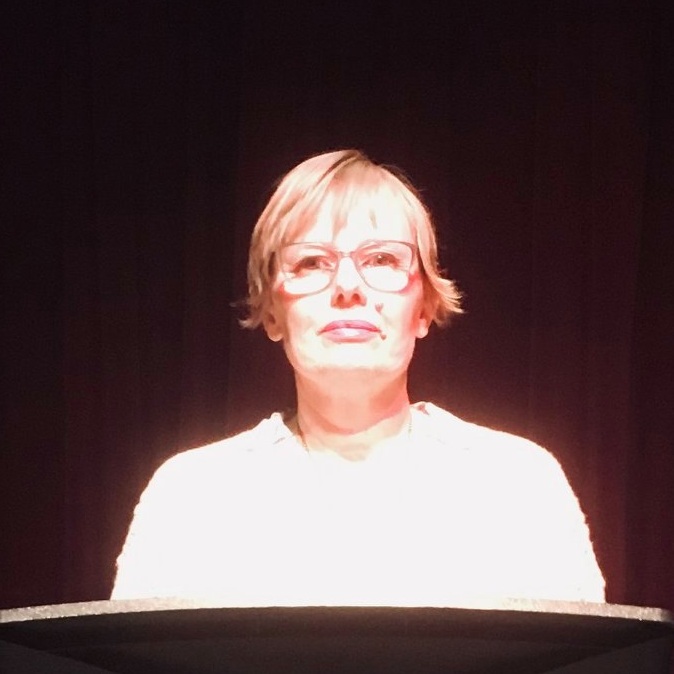 With Danette Boucher • Workshop 13 to 26 April 2019 • Presentation 26 April, 8PM, August 1, 8:00 pm
I am so easily swayed, and intuition tells me that my life now depends upon me finally trusting myself.
The Grace of Strange Weather
With TJ Dawe• Workshop 13 to 21 June 2019 • Reading 21 June, 8PM
OK, so there are some good things about being here…. on night shift. For one thing, I can have the radio on all night. To be honest, I don't even hear it, most of the time it's just white noise in the background…like one of those sleep machines that puts your bed next to a forest stream or on a beach surrounded by crickets and waves. But I can also get weather updates too…which is especially important on a night like tonight.
With Kathleen Flaherty • Workshop 7 to 13 July 2019 • Reading 13 July, 8PM
~ a dramatic multi-media reflection on finding the feminist voice.
"Stand up straight. Look them in the eye. Never let them see you cry," my mother said. "Queen Bee" will reveal the lesson in our personal truth, encourage tenacity to rebuild resilience, command courage to face demons and celebrate transformation. A collage of projections will embellish the setting with minimal props and voiceovers making the work tour worthy.
Workshop 29 July to 4 August 2019*
*(Re-scheduled to Fall 2019 • Date of Reading TBD)
Suddenly you're fifty – and you find yourself on all-inclusive vacation with your aging parents. I'm on the plane and I look over at them – Mom with the one good ear, Dad with the one good eye. Between the two of them they make up one full person. [beat] Seemed like a good idea at the time.
With Dirk Van Stralen • Workshop 21 to 28 July 2019
Randal Dirks officiates this memorial set in the holy location known merely as Saint Gunter's. Join Randall Dirks, Eugene Boyle, Page Gray and a host of other mad-cap characters as they go on a journey examining and remembering Theatre: A Eulogy.
With Julia Mackey • Workshop 9 to 21 September 2019 •
Our aim is to create a play about the women behind Winston Churchill. He is debatably the most written about person in the English language, much of it written by himself. But amongst all this verbiage there is one voice missing - the Women.
With Karen Jeffery • Workshop 25 - 31 August 2019 • Reading August 30 & 31, 8 PM
Marcel has many stories to tell around Salmon Dipping and knowledge to impart about not only fishing but about life.
ELDER MARCEL: Don't stay out too late, the animals are out tonight - and they're hungry - they like a good salmon.
A Song for My Mother • Shawna Berry
With Dirk Van Stralen • Workshop 10 to 16 February 2020 • Presentation 16 Feb, 8PM
She wanted to be happy and leave us with happy memories – whatever she could. And we wanted that for her.
Shawna: Anything you want, Mom. If I can, I'll give it to you.
Mom: Hm, well for starters, I want apple pie – for breakfast – in bed.
Workshop 20 January to 4 February 2020 • Presentation 4 Feb, 8PM
"I don't question this in 1828, when I am sixteen years old. I have not come to the age yet were I understand there is questioning to be done in the world. All I have known is this fur trade and this endless ambling westward. The other thing I don't understand yet, what none of us really understand, is that these marriages of indigenous women to fur trade men is only protected by Christian honour until white women show up."
Goldpan Poetry • Brendan Bailey
Workshop 18 to 24 March 2020 • Reading 24 March 8PM
At least we were once upon a time...
The water must be perfect to remain divine.
But it's funny how affection helps one walk the line,
How our lives thrive when upon a partner's love we dine.
Fraser & Me • Danielea Castell
Creation, Exploration, fall 2019
A love story between an ecosexual woman and a Canadian River.
At 10pm on Friday August 31, 2012 I went down to the riverbank in Prince George and spoke to Fraser River for the first time. I introduced myself by name and explained that I was bringing people to his banks in 3 weeks time to sing our love and gratitude - and that I thought he should know.
A Totally New Work • Amanda Preston
With Dirk Van Stralen • Workshop 25 February to 3 March 2020 • Reading 3 March 8PM
The Exploration Series supports new and emerging artists and voices; this includes our own Wells residents. Amanda has been a regular member of the troupe of actors who bring us the Sunset Cabaret - our monthly fundraisers. Amanda possesses a natural comic timing and is fearless. Just look at her! She has a story to tell.