Production Series
The Sunset Theatre also produces full productions that spring out of our Exploration Series, as well as existing plays – produced in-house – featuring local and guest artists from a variety of disciplines and backgrounds. This year, we are pleased to present our inaugural Christmas play, Cariboo Magi, which was written in Wells, and stacked with a fully-local bench of deep talent.
11 & 12 October 2019 • 8PM
Written by Emma Jarrett
Direction and dramaturgy by Danette Boucher
After a development phase in 2018-19 (working title: Breastless), Emma Jarrett's one-woman play is a sometimes humorous, often thoughtful and quizzical rollercoaster ride of emotion, and an honest portrayal of being at the mercy of modern medicine, saved by the care of other practitioners and buoyed up by loved ones.
This intimate, unflinching glimpse into the ravages of a cancer diagnosis will make you laugh, think, and feel.
December 2020
Written by Lucia Frangione
Directed & set design by Dirk Van Stralen
"A beautifully written tribute to the strength of the human spirit." — Vancouver Sun
"Devilish wit, deep religion, sheer audacity… I cried. I laughed. And I thought. Who could ask for more?" — The Georgia Straight
"Cariboo Magi is such an original, refreshing take on the Christmas story that even the Scroogiest theatregoer would have trouble resisting its charms." — The Georgia Straight
A drunken Anglican minister who has failed to convert anyone in ten years, an avaricious saloon keeper with a murder in her past, a pregnant child star who has become too old for her roles and a man who claims to be the last of the Mohicans all need a new lease on life. They intercept a contract meant for a San Diego theatre company, form a bedraggled troupe of players and head north, through the wilds of the Cariboo gold rush to perform a Christmas Pageant for the Theatre Royal in Barkerville, BC.

On their way, they rehearse a hilarious pastiche of Hamlet, The Last of the Mohicans, A Christmas Carol and The Gospel of Luke, gradually finding a way to legitimize their only true talents as "professional liars." Cariboo Magi is an unabashed celebration of the power of theatre to renew our lives and banish our cares.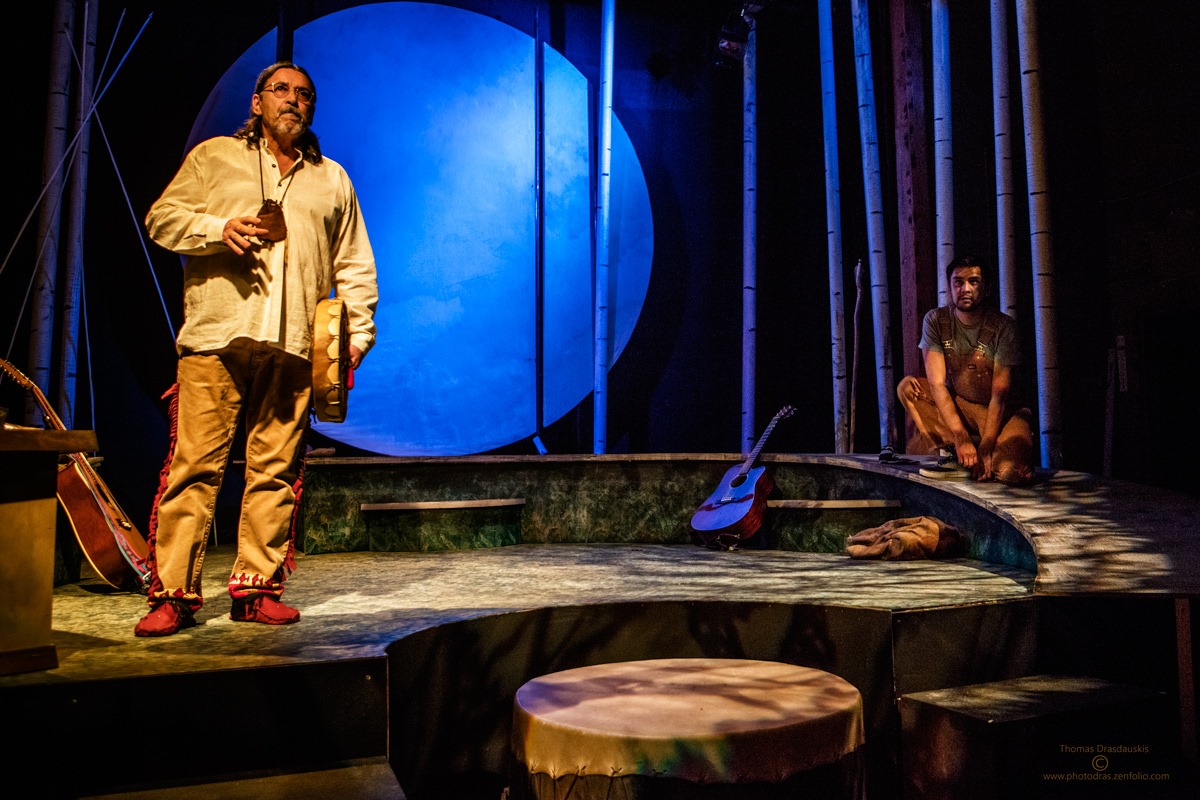 The Drum is Calling You Home
Premiere 2018
2021 - Invited to Quesnel Live Arts, Dates TBC

Written by Marcel Gagnon
Directed by Karen Jeffery
Set & Lighting Design by Hans Saefkow
Performances by Marcel Gagnon & Aaron M. Wells
Developed over a couple of seasons through the Exploration Series, this autobiographical play by Lheidli T'enneh Nation Elder Marcel Gagnon mixes performance and music with traditional ceremonial elements.
The world premiere of The Drum is Calling You Home took place at the Sunset Theatre in 2018.
Production and Touring Information can be found here
2017
Written by Morag Northey
Directed by Dirk Van Stralen
Dramaturgy by Eugene Stickland & Michaela Jeffery
Performances by Morag Northey & Eugene Stickland Lighting by Gerald King
Morag Northey developed her play 17 through the Sunset Theatre's Exploration Series during a five year period that included: artist retreats, a compilation of writings, musings and songs; dramaturgy with playwright and dramaturg Michaela Jeffery and public readings with the final script being birthed under the dramaturgy of award-winning playwright Eugene Stickland during the Sunset Theatre's 2016 summer season.
For more information on 17 click here
2015
Written by Michaela Jeffery
Directed by Tim Sutherland
Dramaturgy by Brian Drader
Performances by Devin MacKinnon, Andrew Hamilton & Michelle Lieffertz
Lighting design by Dave Jeffery
Developed at the Sunset Theatre. World premiere in 2015.
A backwoods televangelist. A bull rider. A secret exorcism.
"This explosively powerful new work by award winning emerging Canadian playwright Michaela Jeffery marries the wild charisma of the iconic West with the visceral allure of contemporary fanatical evangelism in snake churches of the deep south."