Presentation Series
The Sunset Theatre has had the pleasure to present professional artists from all across Canada to share their extraordinary work.
6 Guitars
19 & 20 Sept • 8 PM
Written and performed by Chase Padgett
Since it premiered in 2010, 6 Guitars has been performed hundreds of times for tens of thousands of people across North America to roaring standing ovations. Its unique but universal message connects to any musician or music lover regardless of one's age, background, or favourite genre.
★★★★★
Edmonton • Winnipeg • Toronto • London • Orlando
For tickets please email: sunsettheatre@gmail.com
Jake's Gift • Fundraiser
18 May • 8PM
Written and performed by Julia Mackey, this international Canadian hit play has been performed over 1000 times, and had its first public reading at the Sunset Theatre in 2006.
Operatic Panic Attack
19 & 20 June • 8PM
Written and performed by TJ Dawe
The legendary Canadian monologist (Roller Coaster, Medicine, Marathon, the Slipknot, Labrador) returns to the Sunset stage with a new performance about being a theatre student, sexual anxiety and discovering beautiful music.
"A master monologist" - Toronto Star • "A flawless performer" - Charleston City Paper • "Dawe has storytelling down to a fine art" - Vancouver Sun • "A natural and prodigious gift for storytelling" - Montreal Gazette
Molly's Comedy Cabaret

28 & 29 June • 8PM
What is Molly's Comedy Cabaret? It is a comedic romp featuring the power house vocals of local actress and singer Molly Wilson. From Broadway to pop to Motown, there is never a dull moment — and every show features a strong likelihood of puppetry! This just might be the best entertainment value in town!

"With a vocal range as wide as Canada itself, Wilson has the chops to successfully pull off the music of Celine Dion, Aretha Franklin, Queen and Whitney Houston to name a few. Add to that her delightful personality, endearing stories and comedic timing, and you've got "Molly's Comedy Cabaret," an enjoyable hour with your new bestie, Molly." – Orlando Sentinel
"Molly Wilson is wonderfully entertaining, and truly knows how to reach an audience." – Freeline Productions, Orlando
The Fred Wells Show

29 June • 3PM
Performed by James Douglas • Written and directed by Danette Boucher
As the gloom of the Great Depression fell like a fog over North America in the 1930s, one tiny pocket of prosperity shone like a beacon of hope. High up in the foothills of British Columbia's Cariboo Mountains an introverted yet charismatic prospector named Fred Marshall Wells had a hunch there might still be gold where the province's great Gold Rush once boomed in the 1860s. And he was right. While the rest of the world struggled simply to survive, the Cariboo Gold Quartz Mine erupted into activity. Soon, thousands of people flocked to the area, and the next Cariboo Gold Rush began. Fred Wells saved countless BC families from the ravages of poverty in the "dirty thirties" and today the town of Wells, BC – 73 kilometres east of Quesnel – survives as his legacy.
The Fred Wells Show is a 60-minute humorous and dramatic monologue that presents the innermost thoughts of an industrious "man of few words."
★★★★
"A fascinating script by Danette Boucher … and a charming, DeNiro-esque performance by James Douglas, this is a true story of honour and determination that can't help but inspire." – Monday Magazine
One Man Avengers

1 & 2 July • 8PM
Written and performed by Charles Ross
Directed and Dramaturgy by TJ Dawe
The one-man-wunderkind is back! The performer behind the One Man Star Wars Trilogy and One Man Lord of the Rings lends his frenetic character skills to avenge the superhero behemoth you might have heard a little about recently.
Sink or Swim
July 12 & 13 • 8PM
Written and performed by Beverley Elliott
Directed by Lynna Goldar Smith
Musical Direction by Bill Costin
"It's Little House on the Prairie meets Lord of the Flies," says Elliott, as she trades the safety of the family farm for the thugs of a one-room school. In this poignant, playful, and achingly relatable show, Elliott navigates the uncharted waters, big adventures, betrayals and epiphanies that shape us all into the adults we become. It answers life's big questions like "Why did I eat the fish food?"
"Beverley Elliott is magnetic. It's hard not to feel disappointed every time she walks off the stage." – Erika Thorkelson, Vancouver Sun
"Elliott's voice communicates a reassuring humanity." –Tom Harrison, The Province
"…Beverley Elliott is charmingly freewheeling." – Colin Thomas, Georgia Straight
"It's a terrific show by an amazingly generous performer. Icing on this cake is her gorgeous voice." – Jo Ledingham, Vancouver Courier
Assassinating Thomson

19 & 25 July • 8PM
Creator and performer Bruce Horak, a legally blind painter, actor and playwright, paints the audience's portrait live on stage as he explores the facts and fictions surrounding the death of one of Canada's greatest artists, and shares the unique way he sees the world.
★★★★★ – CBC Winnipeg
"Bold and almost shocking in its originality. I haven quite seen through the eyes of a blind man, but I'll probably never get closer." – Daily Courier, Vancouver
The Railbirds
20 & 27 July • 8PM
Join us for an evening of spectacular music from travelling nomads Onalea Gilbertson and Bruce Horak.
Awkward Hug
9 & 10 August • 8PM
Award -winning actor, writer (Happiness™- ★★★★★) and storyteller Cory Thibert, embodies his 19-year-old self as he uncovers the truth behind what sets his family apart. This coming-of-age story with a twist, explores what constitutes "normal" in our world and how having parents with (dis)abilities challenges what a family can look like. HILARIOUS. HONEST. IMPACTFUL.
Director: Linnea Gwiazda, Dramaturge: TJ Dawe.
★★★★★
"Captivating" – Vue Weekly, Edmonton
★★★★★
"Remarkable" – GigCity, Edmonton
"Beautiful, gentle solo show… bring someone you love." – Kathleen Oliver, Georgia Straight
"This one's the real thing. Go see it." – Colin Thomas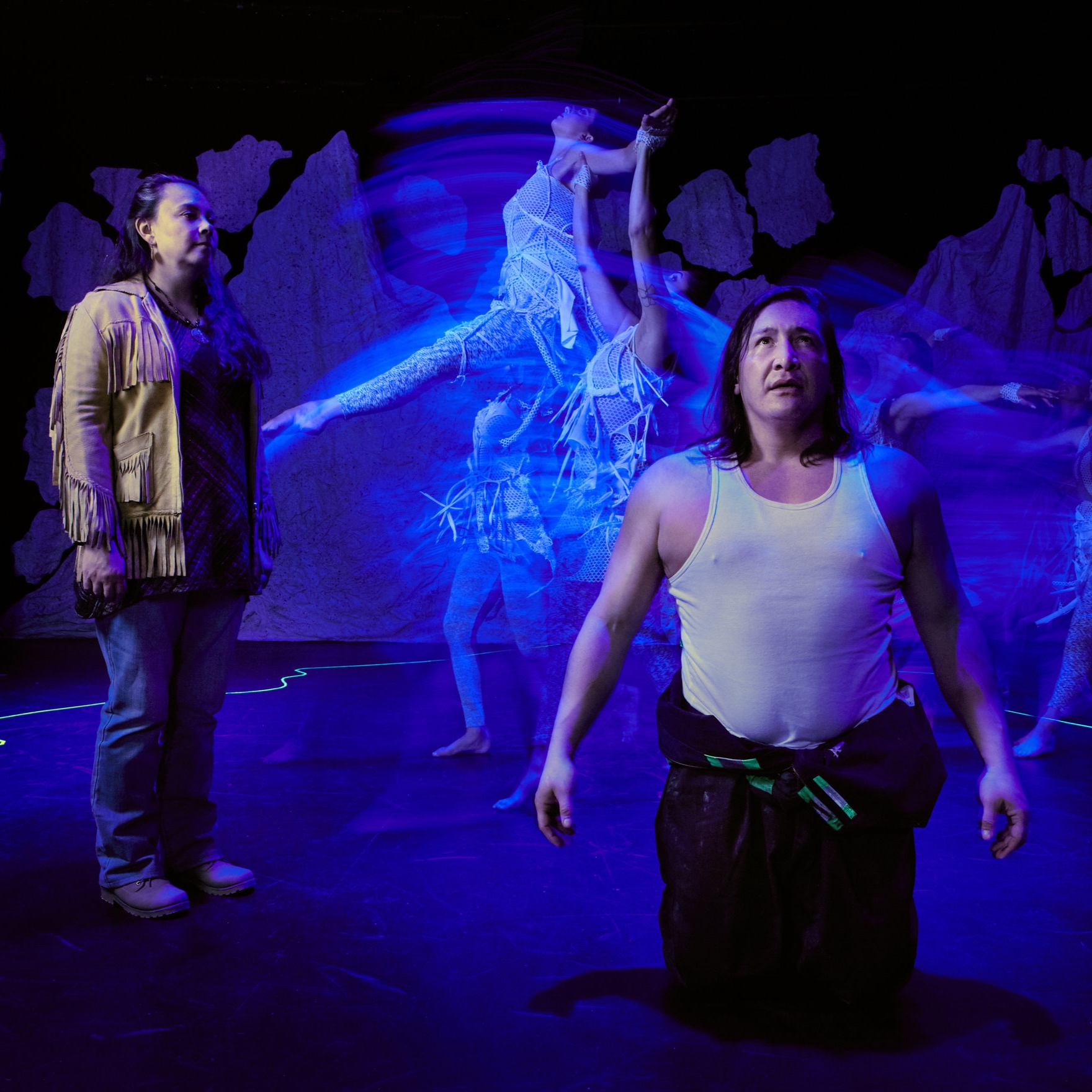 Written & Directed by Matthew MacKenzie • Starring Sheldon Elter • Featuring Skye Demas, Lara Ebata, Christine Sokaymoh Frederick, Zoe • Glassman, Rebecca Sadowski, Kendra Shorter, Shammy Belmore
Comically Dark. Unapologetically political. A play about pipelines.
"I'd never seen a play that speaks to issues facing Canada's Indigenous peoples as effectively and beautifully as Bears does." – Jerry Saddleback, Cree Elder and Dean of Cultural Studies at Maskwacîs College
"…a highly entertaining evening at the theatre thanks to MacKenzie's clever direction and Monica Dottor's ingenious choreography." – Kelly Nestruck, Globe and Mail
Woody Sed
23 & 24 August • 8PM
Written and performed by Tom Jones
Directed by John Murphy
Woody Sed is a "powerful piece delivered by a powerhouse talent" (Uptown Magazine) about the life and times of Woody Guthrie, and the songs he sang about them. Woody said: "All you can write is what you see."
Well, Woody Guthrie saw it and wrote about it–from the dust bowl of Oklahoma to the orange groves of California, to the towers of New York City; from Hobo Jungles to Union rallies and the Merchant Marines. Both a biography of a seminal American musician and an epic drama of Greek proportions, Woody Sed charts Guthrie's rise to fame and his struggle to escape a harsh fate that dogged his footsteps to the end.
Featuring Woody's songs, the story offers a cascade of colorful characters, all bundled up in a true to life tale. Woody was a provocative writer; his words ring as true today as they did in his own troubled times. Woody wrote and sang his truth and his songs still inspire us to join in and carry on.
★★★★★
"Woody Sed is pure magnificence." – Tom Eremondi, Saskatoon Star Phoenix
"My name is John Aitken; I did not speak until I was eighteen"
Truth and healing in Canada's First Nations are vast and vital topics explored through a highly personal lens in Coast Salish artist John Aitken's The Gift.
"I am the product of childhood trauma and abuse. I survived by being as invisible as I could and not speaking until I was eighteen years old. I struggled throughout my childhood as a "dirty little indian" in a rural white community", says the Mayne Island artist.
John Aitken tells his story of survival, personal resilience and reconciliation as he lived his childhood, nonverbally, through the performance of "the Gift", utilizing dance/movement, physical acting, vocalization, drumming and singing. Sharing the stage with Aitken is acclaimed actor/director and filmmaker, Shelley MacDonald of North Vancouver.
John Aitken and award winning animation filmmaker, Gail Noonan, developed this performance art piece over three years on Mayne Island. Aitken and MacDonald weave the story using a series of dream-like events drawing on First Nations and European Iconography and archetypes. The story takes the audience through the emotions of love and tenderness to fear, terror and loss, then finally to hope, joy and celebration which culminates in John receiving "the Gift" of his voice.
Aitken and MacDonald are part of a national movement of First Nations actors, musicians, artists and film-makers utilizing the arts to move through the trauma and history of systemic racism and abuse into healing and creating a pathway towards reconciliation.
An artist, activist, dancer, actor, filmmaker, educator and storyteller, Aitken uses many mediums to advance the opportunity for intercultural dialogue. All performances of "the Gift" conclude with a talking circle, where audience members are invited to stay and participate in the safe, structured environment to share their observations and discuss the emotions raised during the performance.